Echo and Bass Galleri Monitor
Göteborg 3/11 2017

An intsallation about Time Space and Dub. Made by travel documentations from the arctic circle, cardboard, bass and the bacis movement of universe.
Texts: Verner Boström
Music: LKSKPND
With support from Oscar Preibsch
Constructive Ambiguity Veita senter, Tromsø 17/1 2017

Showing the video-work One and a half hour Party people(A video about the art of partying)

The exhibition was a collaboration by students from Kabelvåg Film and Art College and students from Tromsø Art Academy.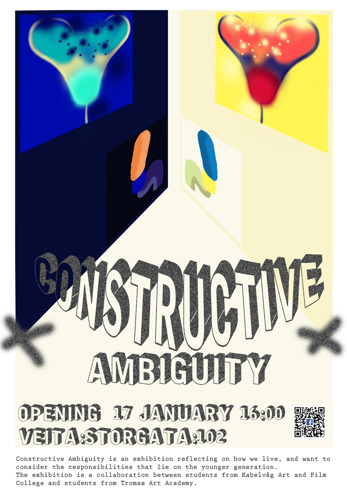 The Mall of Telefonplan Galleri Konstfack 8-9/6 2016
This exhibition consists of a 24 hour performance, documentation is made of written notes. The exhibition was accessible for viewers from a balcony where they had an overview of the events. The performance was prepared by the text About work that problematize the different ways of work and its means for us as beeings.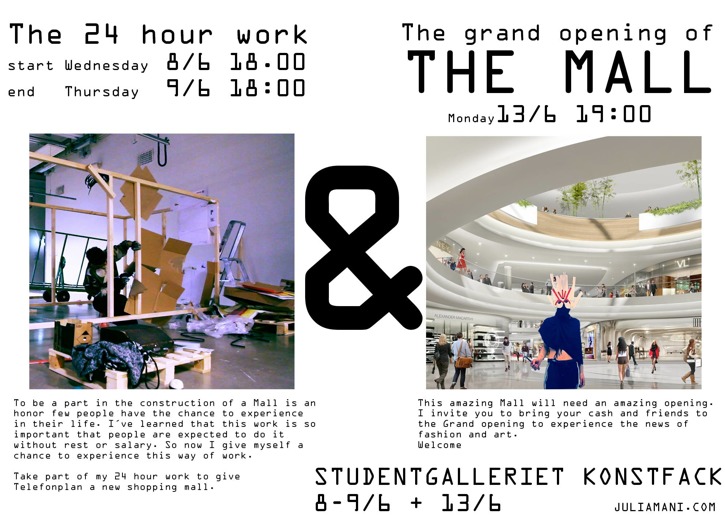 "The things that occupy your focus is your Work.
We may not have the power to choose what our Work is, but we have the power to decide how to relate to it. The Work is the processing of materials, space, thoughts, feelings, experiences, time and will. The Work is constant and an equation that always, in a way or another, gets even in the end. The different parts of your Work is the things You´ve done and the things You will do. But its not the things You think you did or the things You belive you´re going to do, because that´s a conception angled by your Experiences and Visions that are formulated by your current Thoughts and Feelings. Your current thoughts and feelings belongs to the place in time and space that you are when you formulate them."
B O O T L E G Tromsø Academy of Contemporary Art 16/9 2016
B O O T L E G was a single night experience where viewers were invited to have pancakes and take part of an installation. The word Bootleg meaning a simply made, bad copy(probably of something expensive and exclusive). With emphasized sketches, part of a teenage room, yellow lights(to mimic the nighttime streetlights) a ten meter wide eagle from my dreams, a video of observations and replicas of my shoes made of plastic bags, a old rug and carton. Within this space I wanted to fit my subconscious strives and fantasies.
+ Publication of the fanzine What ever happened to the great DJ´s?
The video of B O O T L E G
A God College of Arts Craft and Design, Stockholm, March 2016
During a week I collected materials from Real life and the life from inside my studio. The title A God is a reference to one of the scenes in Hayao Myazakis Spirited away. Within the time of the exhibition it went through a metamorphosis into an urn made from the original materials, filled with the ashes of the rest of it, which had been cremated.